The high court ruling forcing ISPs to block The Pirate Bay finally affected me today.  Although not a regular to the site myself, since I heard my Internet usage would be effectively censored I've started taking an interest in whether I can get there or not…As of today – I can't…well not directly anyway…
Makes Actual Criminals Harder to Find
Don't get me wrong – Web filters to restrict child porn I can understand – but surely that's a very different "kettle of fish" to copyright infringement.  All that's going to happen here is that a lot of normal Internet users are going to research how to bypass web filters and it doesn't take much Google-Fu to find out.  This makes actual criminals harder to find and exposes more people to the restricted sites E.g. child porn.  Oh, and at the same time, a thousand "The Pirate Bay" alternative sites will spring up.  All in all – a complete waste of time and money.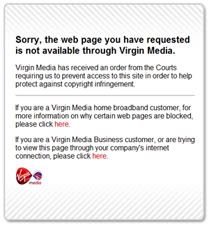 Internet censorship is growing in scope and becoming easier. Yet it never has the effect desired. It simply turns criminals into heroes – Jim Killock
Potentially more worrying, is the fact that it has suddenly become much easier for parts of the Internet to suddenly be censored…Thin end of the Wedge and all that – Great Firewall of Britain anyone?  No thanks!
Simple Ways to Bypass the Filter
Having said all that, the pointlessness of these kind of laws is only surpassed by their ineffectiveness.  Some simple ways to bypass the filters:
There's many more methods that are probably better including using a VPN service – but the ease with which these filters can be bypassed surely makes a nonsense of this law…
Virgin Media have issued statements that they are a responsible ISP and must obey any court rulings blah blah blah – but I still feel let down that they censor my Internet so rapidly…even BT have requested some time to think about it…
Have you found any more alternatives worthy of mention – let me know in the comments
Compelling Legal Alternatives
In the meantime – I'm sure the BPI can look forward to a sudden bump in their profits…
…except of course they won't because that's quite obviously not how it works.
"As a responsible ISP, Virgin Media complies with court orders addressed to the company but strongly believes that changing consumer behaviour to tackle copyright infringement also needs compelling legal alternatives, such as our agreement with Spotify, to give consumers access to great content at the right price."
The Pirate Bay founders were convicted in 2009 for helping people circumvent copyright controls – here's Peter Sunde's reaction to that conviction: