Really enjoyed watching the "Gold Rush" series so thought I'd make a game of it…
After watching the hit Discovery Channel show "Gold Rush" , I developed a strange kind of Gold Fever myself.  The urge to sell all my possessions, grow a beard, and head up to the frozen wastes hadn't taken hold – but the desire to model the escapades in the form of a game, had.
As it turns out, making a new game from scratch is more difficult than I originally thought…Following the show, I had a lot of ideas rolling around in my head.  Lots of ideas and lots of mining jargon but no real idea of how this would or should manifest itself in the form of a game.  After a bit of thought, I decided upon a card game as they're reasonably easy to prototype and there are various online sites that can create card games if you provide the artwork.
I bought some blank cards and began designing the game mechanic.  In retrospect, I should have sorted out my printer and used that to create the cards as it's quite labour intensive making them by hand and in the early stages the game changes radically – resulting in a lot of discarded cards (and effort).  on the plus side, it's been a while since I've done some colouring in and it's always nice to do something a bit creative…  As you can see from my "first edition" photo above…I'm a bit out of practice.
The next stage was to play test the idea.  This step sounds more fun than it is so an understanding playmate was essential.  Needless to say, the game was completely broken, we couldn't even play the first hand….so back to the drawing board…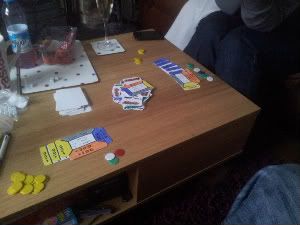 A few(?) redesigns later, and it's playable – well, we played a full mining season without having to change any of the rules anyway – a breakthrough moment for me.  I want the game to play well with between 2 and 6 players and I'd only play tested with 2 initially – so I managed to persuade a couple more friends to help play test.  Fortunately, the game held up and we had a complete 4 player game.  Having said that, it's highlighted a couple more things that could do with some tweaking so the process continues…
I've now ordered some A4 card and fixed the printer so I can start making changes without having to redraw all the cards each time…